---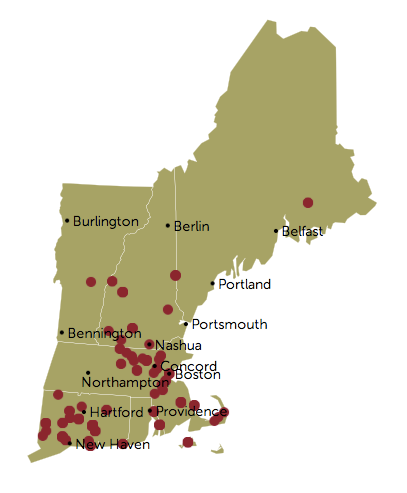 At this point all of our Leaf Out observations for the year have been collected. A huge thanks once again to all who participated. As you can see from the map, folks from all over New England took part.
You can also interact with the map on the New England Leaf Out Project site.
---
One of our ongoing challenges with this project is developing visual presentations to explain complex issues. Climate change is an overwhelming, scary concept. The web of plants and animals interacting in an ecosystem quickly gets tangled in complexity. Trying to cram all this into your head at the same time, and even understand it well enough to think about how climate change might affect the ecosystem… well that can seem like sheer lunacy.
But this doesn't have to be impossible. We know that we can take in incredibly complex amount of information visually. A trend we might labor to decipher in a column of numbers sticks out like a sore thumb when seen as a graph. We also know that interaction is a powerful tool when learning about behaviors and relationships. The ability to manipulate something while observing how its responds …
---
One of the things we want to use this space for is sharing resources that have inspired us or that we've found useful. I think it's fitting to lead off that series with eBird from the Cornell Lab of Ornithology and the National Audubon Society.
eBird is a revolutionary citizen-science project that was an inspiration for Field Station from the start. A vast community of birders uses the eBird website to enter their observations. The submissions are reviewed and the data combined with many years of past reports from all across the continent.
eBird's goal is to maximize the utility and accessibility of the vast numbers of bird observations made each year by recreational and professional bird watchers. It is amassing one of the largest and fastest growing biodiversity data resources in existence. For example, in March 2012, participants reported more than 3.1 million bird …