I am making inks from plants in the area of Concord/Lincoln.  These include: trees such as oak, walnut, elm, maple, birch; ink cap mushrooms, pokeberries, ferns, and other flowers and leaves.
Researching medieval ink recipes, fibersheds, the agency of plants, plant communication, chemistry, printmaking, and font design.
These inks will be used in the production of field notes, field broadsides, and other works in the Field Station during the residency period.
7/4  Steeped Hemlock ink
Hemlock Bark
rainwater
ethyl acohol
crush Hemlock bark into small pieces with hammer, steep in rainwater for 3 weeks in solar oven, strain out bark bits, simmer to concentrate, add ethyl acohol to preserve
7/17  Sap Green
Buckthorn Berries
rainwater
alum
ethyl alcohol
smash berries, boil alum in water, add to berries, add ethyl alcohol to preserve
08/01 Weld ink
strip all seeds leaves, and flowers from Weld plant, steep in water (do not boil) for at least 24 hours
strain all plant parts
boil 1 T alum in water, add to ink (brings out yellow)
grind calcium carbonate with morter and pestle
add to ink to make a lake
add ethyl alcohol to preserve
08/01 Sumac ink
pluck sumac drupes at full ripeness, and strip all berries from drupe
steep with leaves for a few hours
simmer down to thick paste
add ethyl alcohol to preserve
---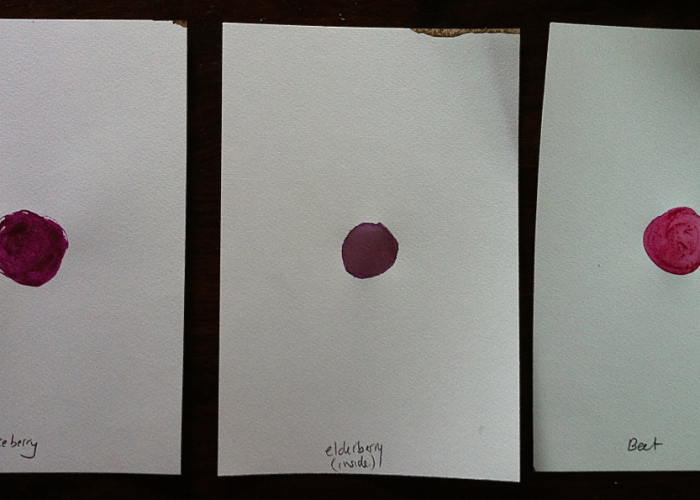 Berry inks:
Pokeberry (Concord roadside)
Elderberry (Sudbury backyard)
Beet (Gaining Ground)
---
bark/tree pigments
berry pigments
flower/earth pigments
gathered plants to print
new pigment charts grouped by type: bark/tree, berry, flower/earth
todo: inks from pokeberry, Walden Pond mud, celandine poppy, sycamore fruits
---
Went over to Gaining Ground today to harvest some Weld in full bloom to try to make a yellow lake pigment.  There is some Madder and Weld growing there from a previous farmer who planted a dye garden.  There isn't a lot out there about making pigments, certainly not lake pigments, so we'll see how this experiment goes.
---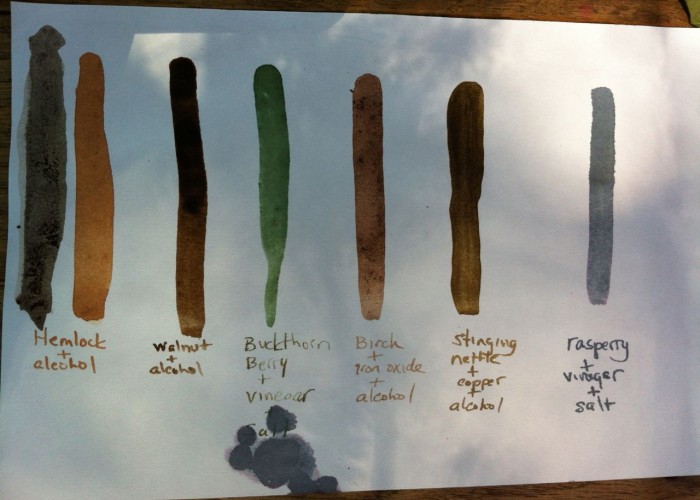 Buckthorn berries have been called an invasive, but who really knows what invasive means these days?  That language suggests objects and beings that belong and those that don't along a lineage of ownership, shared identity, and centrality.  The issues with this kind of thinking run through so much these days, but in this case, what can they possibly mean?  Our climate is changing, so our backyards are changing.  What is there now may not be there in 20 or 50 years.  More so, what is there now most likely wasnt' all there 50 years ago.  This Concordia landscape was more at a low of around 25% forest in Thoreau's time, and now is more than 80%.  Trees and species that comprise and love the open fields, farmlands, and shrubs have little hope of finding a home now.  Species that find …
---
wild black raspberries growing along parking lot median, got a few before the deer (who have been abundantly eating the Annual Sowthistle and other plants).  we'll see  if this ink has more permanence than the last batch of juneberry ink
---
collected to make ink.  steeping in hot water now.  Likely will just make a very weak yellowy green wash.
---
Lots of Buckthorn growing on the edge of the wetlands
  From the dried berries, a series of rich but fugitive colours is obtained; the berries used to be sold under the name of 'French berries' and imported with those of Rhamnus infectorius from the Levant. If gathered before ripe, the berries furnish a yellow dye, used formerly for staining maps or paper. When ripe, if mixed with gum-arabic and limewater, they form the pigment 'Sap or bladder green,' so well known to water-colour painters. The bark also affords a yellow dye..
Buckthorn berry juice contains Rhamnocathartin (which is yellowand uncrystallizable), Rhamnin, a peculiar tannic acid, sugar and gum. The fresh juice is coloured red by acids and yellow by alkalies, and has a bitter taste and nauseous odour. Its specific gravity should be between 1.035 and 1.070, but it is seldom …
---
gathered tufted vetch flowers from around the parking lot margins, boiled them for a few minutes, all the color disappeared and I have another light green ink.
---
hemlock bark–red, orange, rust, brown
6/3 making the broadside today at FSC
6/3 observations from visit to Nuclear Metals Superfund site with Richard Primack
after a couple days in the solar cooker
At my visit with Richard Primack to Nuclear Metals Superfund site in West Concord, I gathered quite a bit of bark from a fallen Hemlock tree.  Hemlock's have one of the highest concentrations of tannin in their bark, leading to over 70 million being felled in a few decades during the industrial era.  The remaining Hemlock's have been blighted by the Woolly Adelgid insect.